February 1 - 15, 2012
These are the scripts Joe Benson used on the air at 95.5 KLOS in Los Angeles. They all received final editing by Jan Benson, without whom the task would have been far too daunting. Remember to give credit where credit is due, and enjoy!
February 1, 2012

Guitarist Mike Campbell of Tom Petty's Heartbreakers is 62.

On this day in 1963, Neil Young, at age 17, performed his first professional date at a country club in Winnipeg, Canada.
On this day in 1964, the British Invasion of America officially began as The Beatles' "I Want To Hold Your Hand" began a seven-week run at #1.
On this day in 1964, Bob Dylan released his classic "The Times They Are A Changin'" album.
On this day in 1965, The Rolling Stones released their legendary "The Rolling Stones Now" album.
On this day in 1967, The Beatles recorded the rhythm tracks for the title cut of their classic "Sgt. Pepper's Lonely Hearts Club Band" album by playing live in Abbey Road Studio #2.
On this day in 1970, Van Morrison released his "Moondance" album.
On this day in 1986, John Mellencamp's "R.O.C.K. In The U.S.A." entered the Top 40.
On this day in 1988, The Cars officially broke up for the first time.

More Halen Samples
Van Halen have released samples of two more songs from their forthcoming album, "A Different Kind Of Truth." Of the six sneak peeks so far, three (including the newest sneak, "The Trouble With Never") are completely new. Both the single release ("Tattoo") and "Blood And Fire" were basically reworked, unreleased material from the Seventies. A version of the rocking "She's The Woman" was originally recorded as a demo in the Seventies but never released. Bring it on boys!
Hubert's Party
Next month's all-star tribute to the late blues guitarist Hubert Sumlin is coming together. Headlined and organized by Eric Clapton, the Apollo Theatre show will include performances by Keith Richards, Derek Trucks and his wife Susan Tedeschi, James Cotton, Kenny Wayne Shepherd, Buddy Guy, Robert Randolph and Jimmie Vaughan, among many others. Backing them will be an all-star house band featuring Steve Jordan, Danny Korchmar, Ivan Neville, Willie Weeks, Kim Wilson and others. Everyone involved is hoping that a DVD of the event (like Clapton's "Crossroads Festival" series) will be released by this Summer.
Mellencamp For Woody
Finally, a reason to travel to Tulsa before the Spring thaw. The second largest city in Oklahoma will be the site of the Woody Guthrie Centennial Celebration concert on March 10th, headlined by John Mellencamp who will be joined by Woody's son Arlo Guthrie, among many others. If you get there early, be sure to check out the Woody at One Hundred: The Woody Guthrie Centennial Celebration 1912-2012 exhibit at Tulsa's Gilcrease Museum presented by The GRAMMY Museum and the Woody Guthrie Archives. By the way, the famed folk singer would have turned 100 on July 14th.
Naughty Newt (Again)
Just a few days after former House Speaker/current presidential hopeful Newt Gingrich was hit with a cease and desist notice ordering him to stop using The Heavy's "How You Like Me Now?" on the campaign trail, Survivor guitarist Frankie Sullivan is suing Newt too. It seems that the bloviator has been using Survivor's 1982 smash hit "Eye Of The Tiger" as his entrance music at events during his current presidential campaign without permission. Funny how the loudest politicians seem to be the first to bray that the copyright laws don't apply to them.

It was Will Rogers who said: "Even if you're on the right track, you'll get run over if you just sit there."
It was Napoleon Bonaparte who said: "Glory is fleeting, but obscurity is forever."
It was Eleanor Roosevelt who said: "Do what you feel in your heart to be right — for you'll be criticized anyway. You'll be damned if you do, and damned if you don't."
February 2, 2012

Singer extraordinaire Graham Nash is 70.
Bassist Ross Valory of Journey is 63.
Bassist Robert DeLeo of Stone Temple Pilots is 46.

On this day in 1978, after four years of playing virtually every club and backyard in Southern California, Van Halen signed their first recording contract. It was at that time that publicists subtracted a couple years from each member's age to make them seem even more astounding.
On this day in 1979, 21-year-old Sex Pistols bassist Sid Vicious died in New York of a heroin overdose. He was not a hero.
On this day in 1980, the Eagles' song "The Long Run" peaked at #8 on the charts.

Halen Rocked Hollywood!
Van Halen showcased their new live set (including three great songs from their forthcoming album, "A Different Kind Of Truth") last night in a private Hollywood show. I'm here to tell you that Wolfgang Van Halen has really come into his own on bass, and I don't think I've ever seen or heard Eddie Van Halen in better shape! Alex Van Halen was exactly as you'd want — rock solid with his distinctive flare. And David Lee Roth was the ultimate showman in complete control. Great times are ahead!
Macca Mania
He'll be a busy boy next week! Paul McCartney will finally get his Hollywood Walk Of Fame Star in front of Capital Records next Thursday afternoon at 2. Friday evening he'll be honored at the annual MusiCares Person of the Year dinner when Tony Bennett, James Taylor, Neil Young & Crazy Horse (which will be crazy loud), Coldplay, Foo Fighters, Alison Krauss, Alicia Keys, Norah Jones, Diana Krall, Katy Perry, Sergio Mendes, Duane Eddy and the cast from "The Beatles' Love" will perform his songs. Then there's that GRAMMY performance Sunday evening during the telecast. Sure hope he's been taking his vitamins!
How To Raise Money
Bruce Springsteen's daughter Jessica is an equestrian, so he decided to help when the United States Equestrian Team Foundation held a benefit in Palm Beach, Florida last Friday. "Today" show host Matt Lauer and his wife Annette (another avid equestrian) hosted the English Country Evening award presentations and auction, for which Bruce offered up four VIP tickets to any of his U.S. concerts. As the bidding dramatically rose, he increased the number of tickets to eight, then 10 and finally 20, and threw in signed Fender guitars and a personal backstage tour. In the end, two bidders each paid $275,000 for the package!

It was Carl Zwanzig who said: "Duct tape is like the Force. It has a dark side, it has a light side, and it holds the Universe together."
It was Mae West who said: "She's the kind of girl who climbed the ladder of success wrong by wrong."
It was Voltaire who said: "Every man is guilty of all the good he didn't do."
Groundhog Heaven
Today is Groundhog Day, and over 15,000 spectators are expected to gather at "Gobbler's Knob" this morning to see the large rodent named Punxsutawney Phil emerge from his/her lair to see its shadow. Legend has it that if P-Phil can see its own shadow on February 2nd, winter will last another six weeks. Expect an early Spring if P-Phil does not see its shadow! Since 1886, P-Phil has seen its shadow 98 times, hasn't seen it 16 times and there are no records for the other years, according to the Punxsutawney Groundhog Club. The whole event, as well as Punxsutawney (a rural community 90 miles northwest of Pittsburgh), were made even more famous worldwide in the movie "Groundhog Day," which starred Bill Murray. Strangely enough, no one has seen Murray's shadow since 1999... but that's another story for another time.
February 3, 2012

Dave Davies, the fist swinging, guitar playing younger brother in The Kinks, is 65.

On this day in 1959, Buddy Holly, the Big Bopper and Ritchie Valens were killed when their small plane crashed in bad weather shortly after take-off from the Mason City, Iowa airfield. They had decided to pay for plane tickets rather than travel by bus to Fargo, North Dakota. At the last minute, Holly's bass player, Waylon Jennings, gave up his seat so that the Big Bopper could make the flight. This tragedy is often referred to "The day the music died."
On this day in 1968, The Beatles recorded "Lady Madonna" in three takes at Abbey Road Studios in London.
On this day in 2004, saxophonist Cornelius Bumpus, who played with the The Doobie Brothers and Steely Dan among many others, died from a heart attack on a commercial flight from New York to California. He was 58.

This weekend, over 80 stations will air OFF THE RECORD with Joe Benson featuring the music of Deep Purple as well as more of Joe's conversation with singer Ian Gillan.

No Glitter At Super Bowl
Disgraced pop legend/convicted pedophile Gary Glitter won't be profiting Sunday when the Patriots will take on the New York Giants at the Super Bowl at Lucas Oil Stadium in Indianapolis. Every year since 1973 Glitter has collected royalties from the Super Bowl telecast whenever his "Rock & Roll Part II" is played during the game. But this year the National Football League has finally banned the song. As the NFL's Brian McCarthy says, "We will not be playing any version (of) it." About time, say we.
Bruce Is Definitely A GRAMMY Player
It's official! Bruce Springsteen & The E Street Band will be performing live at the 54th Annual GRAMMMY Awards at the Staples Center on February 12th. Bruce and his band will be joining an all-star line-up including Adele, Foo Fighters, Paul McCartney and Coldplay, among others.
Bad Sabbath News
Black Sabbath are currently in England working with producer Rick Rubin on a new album, and have a world tour scheduled to start May 18th in Moscow. But now, less than a month after guitarist Tony Iommi announced that he'd been diagnosed with lymphoma, drummer Bill Ward says that he won't participate in the reunion unless he is presented with a "sign-able contract" that "reflects some dignity and respect toward me as an original member of the band." This is not the first time that Ward has publicly battled with Sharon Osbourne, singer Ozzy Osbourne's wife/manager. Let's hope that they can come together this time.
Joined By A Traveling Wilbury & A Beatle
Joe Walsh's Wednesday night Troubadour listening party for his upcoming "Analog Man" album saw a couple of special guests join him on stage. The album's producer/former Electric Light Orchestra frontman, Jeff Lynne, stepped up to play on two songs before Joe's brother-in-law, Ringo Starr, took to the stage for the finale, "Rocky Mountain Way."

It was Rita Rudner who said: "When I eventually met Mr. Right, I had no idea that his first name was Always."
It was Mahatma Gandhi who said: "There is more to life than increasing its speed."
It was Calvin Coolidge who said: "No man ever listened himself out of a job."
February 4, 2012

Alice Cooper is a semi-shocking 64.

On this day in 1970, John Lennon and Yoko Ono traded a bag of their cut hair in return for a pair of genuine Muhammad Ali boxing shorts. And you thought the Seventies were boring!
On this day in 1978, Queen's "We Are The Champions" peaked at #4, E.L.O.'s "Turn To Stone" hit #13 and Heart's "Crazy On You" topped out at #62.
On this day in 2001, Jimmy Buffett was kicked out of his court side seats at a Miami Heat/New York Knicks game due to his use of profanity. Unfortunately for Jimmy, that burst of rebellious Rock & Roll-ish behavior didn't help his record sales in the least.
February 5, 2012

Legendary session drummer Hal Blaine is 83. As the top Los Angeles studio drummer in the Sixties and early Seventies, he played on more than 8,000 different tracks for hundreds and hundreds of different musicians including the Beach Boys, The Byrds and Simon & Garfunkle. It's almost impossible to listen to an oldies radio station for more than 10 minutes without hearing a song with Hal Blaine's drumming.
Cory Wells of Three Dog Night is 70.
Al Kooper, keyboardist for Dylan and Blood, Sweat & Tears, is 68.
Elton John's longtime drummer, Nigel Olsson, is 63.
Original Guns N' Roses bassist Duff McKagen is 48.

On this day in 1972, Neil Young's "Heart Of Gold" entered the charts.
February 6, 2012

Reggae god Bob Marley would have been 67.
Uber-drummer Simon Phillips, who's worked with The Who and Toto, is 55.
Axl Rose of Guns & Roses is a crazy 50.

On this day in 1965, legendary concert promoter Bill Graham presented his first show when he rented out the Fillmore Auditorium in San Francisco for $60. The show, a benefit concert for the city's mime troupe, featured the Grateful Dead and Jefferson Airplane, who were anything but mimes.
On this day in 1965, "All Day And All Of The Night" by The Kinks peaked at #7 on the charts.
On this day in 1968, The Beatles' "Magical Mystery Tour" album hit number #1.
On this day in 1982, Van Halen's cover of Roy Orbison's classic "(Oh) Pretty Woman" entered the charts as The Rolling Stones' "Waiting on a Friend" peaked at #13 and the J. Geils Band hit #1 with the song "Centerfold."
On this day in 1988, Bruce Springsteen's "Tunnel Of Love" peaked at #9 on the singles chart.
On this day in 1998, Beach Boy Carl Wilson died of cancer in Los Angeles at the age of 51.
On this day in 2011, Irish guitarist Gary Moore died of a heart attack at the age of 58 while on a holiday in Spain. Following three stints in Thin Lizzy, Moore reinvented himself as an excellent blues musician. He released several critically-acclaimed albums and performed with legends BB King, Albert King, Albert Collins, Bob Dylan, Tom Petty and George Harrison.

Adam Wants To Be Freddie
Although Queen says they've got "nothing concrete to say at this stage," the Brit tabloids are claiming that "American Idol" winner Adam Lambert is the new singer for the iconic band, replacing his own personal idol, the late Freddie Mercury. Adam's quoted as saying, "The intention is to pay tribute to Freddie and the band by singing some f***ing great songs. It's to keep the music alive for the fans and give it an energy that Freddie would've been proud of." Queen successfully toured over a five-year stretch with Bad Company singer Paul Rodgers. If it comes to fruition, the next incarnation of Queen may be Lambert's first shot at making some serious money. And paying "tribute to Freddie," of course.
Low Key Start On Their 40th
You sure can't say that the Eagles are over-hyping their 40th anniversary. The boys are kicking off their anniversary tour on April 12th in Dubai, then stopping in Las Vegas on April 21st before hitting Atlanta on May 4th and the New Orleans Jazz & Heritage Festival on May 5th. The tour will feature a new multimedia screen showcase of the band's career as well as some mighty fine singing and playing. Stay tuned for more dates.
Santana's Live Greatest Hits
Carlos Santana has released a number of greatest hits collections over his long career, but he's never unleashed an all live effort. That will change on February 21st when "Greatest Hits Live at Montreux 2011" comes out on DVD and Blu-ray. That gig saw Carlos and his band performing 27 Santana hits as well as covers of AC/DC's "Back in Black" and Cream's "Sunshine of Your Love," so prepare to rock!

It was Coach John Wooden who said: "Don't let what you cannot do interfere with what you can do."
It was James Bovard who said: "Democracy must be something more than two wolves and a sheep voting on what to have for dinner."
It was Barry LePatner who said: "Good judgment comes from experience, and experience comes from bad judgment."
February 7, 2012

KISS fan Garth Brooks is 50 and very rich.
Original Bon Jovi keyboardist David Bryan is also 50 (and not nearly as rich as Garth).

On this day in 1894, Antoine Sax, inventor of the saxophone, died in Paris at the age of 79.
On this day in 1964, The Beatles landed at New York's Kennedy Airport to make their first appearance on "The Ed Sullivan Show." "I Want To Hold Your Hand" was already #1 on the charts, and thousands of screaming fans greeted them at the airport as the first wave of Beatlemania swept across America. Life as we knew it would never be the same.
On this day in 1970, Badfinger's song "Come and Get It" entered the U.S. charts as Joe Cocker's cover of "She Came In Through The Bathroom Window" peaked at #30.
On this day in 1980, Pink Floyd played the first live performance ever of their "Wall" album at the Los Angeles Memorial Sports Arena. The extremely ambitious multi-media production actually featured a wall built between the band and audience during the first half. The debut performance was stopped briefly near the halfway point when fireworks set fire to the stage curtains. The entire presentation proved so expensive to stage, it was only performed 31 times in L.A., New York and Europe.
On this day in 1981, The Police's "Don't Stand So Close To Me" entered the U.S. Top 40.
On this day in 2000, Foghat singer/guitarist "Lonesome" Dave Peverett succumbed to cancer at the age of 57.

Great Crüe Reviews
Mötley Crüe are drawing raves for their two-week Las Vegas residency as well as their Super Bowl Kia commercial appearance. The "Mötley Crüe In Sin City" residency at The Joint At The Hard Rock Hotel & Casino includes showgirl dancers, female aerialists, little people, macabre clowns and stilt walkers while the Crüe play their classics. The band also does an acoustic segment on a floating circular platform, and Tommy Lee's roller coaster drum kit from the band's 2011 tour is back in action. The Kia commercial featured the bad boys cranking out their classic "Kickstart My Heart." Great stuff!
Bono's Last Laugh
Remember how all the financial wizards savaged Bono's investment strategy of sinking $120 million into Facebook a few years back? Well, if any of those experts are still around, it's time to eat crow. Thanks to Facebook's IPO, the investment Bono and Elevation Partners — his investment firm which focuses on media, entertainment and technology industries — could come away with two to three times its investment when the stock goes on sale in April.
Def Cruise
Word is that Def Leppard were blown away by Tom Cruise's performance of their material in the upcoming movie version of the Broadway hit "Rock Of Ages." Guitarist Phil Collen went so far as to say he wouldn't mind having Cruise guest with the band once they hit the road later this Summer. "We'd let him! Absolutely. That would be amazing. Him singing 'Pour Some Sugar On Me?' Totally! Hey, he knows the words." And he's not a bad dancer either!

It was Oscar Wilde who said: "I can resist everything except temptation."
It was Martin Luther King, Jr. who said: "A man can't ride your back unless it's bent."
It was Henry David Thoreau who said: "It's not enough to be busy, so are the ants. The question is, what are we busy about?"
February 8, 2012

James Dean would have been 81.
Vince Neil of Motley Crue is 51.

On this day in 1958, the Quarrymen, featuring John Lennon and Paul McCartney, performed at Wilson Hall in Garston, England. It was there that Paul introduced John to a young guitarist named George Harrison.
On this day in 1975, Queen released "Killer Queen," their first big hit single.
On this day in 1986, Robert Palmer released his signature song "Addicted To Love."
On this day in 2005, drummer Keith Knudsen of the Doobie Brothers died of pneumonia at the age of 56.

This weekend, over 80 stations will air OFF THE RECORD with Joe Benson featuring the music of Electric Light Orchestra and more of Joe's extensive conversation with Jeff Lynne.

MetallicaFest
No doubt inspired by Ozzy Osbourne's occasional OzzFest, Metallica are making their first foray into festival production with the Orion Music + More Festival June 23rd and 24th in Atlantic City, New Jersey. The weekend of "music, comedy and culture" will feature headliner Metallica performing their classic 1991 "The Black Album" in its entirety one night and 1984's "Ride the Lightning" the other. Though more details will be announced soon (at least 22 other bands will appear on the bill), nothing else matters.
Full V.H. For The Fam
Van Halen will do their traditional closed-to-the-public "family and friends" dress rehearsal at the Forum in Inglewood tonight. It will be their last performance before their tour kicks off on February 18th in Louisville, and the first time they'll be doing their full set on their new full sized stage. Rock on!
Grabbing For Halen's Spotlight
Don't be thinking that Aerosmith was purposely attempting to grab a little of yesterday's focus on Van Halen's release of their new album "A Different Kind Of Truth." But darned if guitarist Joe Perry didn't chose yesterday to announce that Aerosmith will launch an U.S. tour in June for their yet-to-be finished and named LP.
A Royal Party
Sir Paul McCartney is leading the list of acts that will perform for Queen Elizabeth's big party: Her Majesty's Diamond Jubilee. Word is that Prince William and Prince Harry had both requested a list of artists to perform in front of an audience of more than 10,000, including the Queen, the Duke of Edinburgh and other members of the Royal Family. While many more acts will be announced, the core artists that performed at the Queen's Golden Jubilee in 2002 have all confirmed participation. In addition to Macca, that group includes Sir Elton John, Dame Shirley Bassey, Sir Cliff Richard and Sir Tom Jones. Only time will tell if Sir Mick Jagger and his partner, Surly Keith Richards, will partake in the celebration of the Queen's 60 years on the throne on June 4th in front of Buckingham Palace.

It was Abraham Lincoln who said: "You cannot escape the responsibility of tomorrow by evading it today."
It was John Wayne who said: "Life is hard, but it's harder if you're stupid."
It was Joseph Wood Krutch who said: "Cats are intended to teach us that not everything in nature has a function."
February 9, 2012

On this day in 1961, The Beatles played the first of 292 gigs at The Cavern Club in Liverpool, England to an audience of a couple dozen. When 17-year-old George Harrison arrived in jeans — a violation of the club's audience dress code — he had to convince the bouncer that he was "in the band." The group already had a following in the dank nightclubs of Hamburg, Germany, but The Cavern was their biggest hometown venue to date. Soon, hundreds would be lining up to see them play.
On this day in 1964, in a defining TV moment, The Beatles appeared on "The Ed Sullivan Show." A record audience of 73 million people tuned in to watch the Fab Four's debut American performance. The band performed "All My Loving," "Till There Was You," "She Loves You," "I Saw Her Standing There," and their current #1 single, "I Want to Hold Your Hand." George Harrison played despite suffering from a bad case of the flu. Also on that night's show were singer Georgia Brown and the cast of "Oliver!," which included future-Monkee Davy Jones.
On this day in 1974, Paul McCartney's "Jet" broke into the U.S. Top 40 singles chart.

More Sabbath Drumming Drama
Word is that Sharon Osbourne has fired original Black Sabbath drummer Bill Ward from the band's much-hyped reunion and replaced him with Tommy Clufetos from Ozzy's solo band. This is pretty much what was expected after Ward publicly announced that he felt the contract he was asked to sign wasn't fair. As ever, a band reunion is whatever management says it is.
Perry/Slash/Sammy/Ali
Aerosmith guitarist Joe Perry, former Guns N' Roses axeman Slash and former Van Halen singer Sammy Hagar have signed on to perform next week at the Las Vegas benefit event celebrating Muhammad Ali's 70th birthday. The Keep Memory Alive organization's 16th annual Power of Love Gala on February 18 at the MGM Grand Garden Arena will pay tribute to the boxing legend and recognize his charitable support of the fight against neurological diseases. Procedes will go to the Cleveland Clinic Lou Ruvo Center for Brain Health and the Muhammad Ali Center. Highlights from the extravaganza will be featured in the "Ali 70th from Las Vegas" that ABC will broadcast on February 25th.
Ringo's Newest All Starrs
When former Beatle Ringo Starr kicks off his next Ringo Starr & His All Starr Band tour on June 14th in Niagara Falls, he'll be featuring a new line-up. Multi-instrumentalist/singer Todd Rundgren will be joined by keyboardist Gregg Rolie (a founding member of Santana and Journey), Toto's Steve Lukather on guitar, Richard Page (of Mister Mister) on bass alongside Billy Joel's sax player Mark Rivera and the incredible Gregg Bissonette on drums. The tour — with more dates expected to be added — is currently scheduled to run through July 21st at our own Greek Theater. Ringo is touring in support of his brand new album, "Ringo 2012."
Another Jon Substitute
Yes is now on its second Jon Anderson impersonator. Jon Davison has replaced Benoit David, the band's substitue frontman for the past four years. David, who replaced Yes co-founder Jon Anderson following his illness back in 2008, recorded one studio album with Yes, last year's "Fly From Here." Sounds a bit like Spinal Tap's drummer situation, doesn't it?

It was Steven Wright who said: "The early bird gets the worm, but the second mouse gets the cheese."
It was John Lubbock who said: "What we see depends mainly on what we look for."
It was Albert Einstein who said: "Truth is what stands the test of experience."
February 10, 2012

Psychedelic folk singer Donovan is 66.

On this day in 1973, Steely Dan's "Do It Again" peaked at #6 on the pop singles chart.
On this day in 1978, Van Halen released their self-titled debut album, which eventually sold over 10 million copies.
On this day in 1979, Dire Straits released their breakthrough single "Sultans of Swing."
On this day in 1987, Roger Waters dropped his lawsuit against his former Pink Floyd bandmates over the use of the band's name. In return, they agreed to pay him some heavy, heavy royalties.
On this day in 1990, Aerosmith's "Janie's Got A Gun" peaked at #4 on the pop singles chart.
On this day in 1997, Sweet's singer, Brian Connolly, died of kidney failure at the age of 52.

GRAMMY GRAMMY
When the GRAMMY Awards air live from the Staples Center Sunday evening, don't plan on seeing many awards going to Classic Rock artists. Because the Recording Academy eliminated 30 categories this year, only a handful of Classic Rockers were even nominated. Guitar god Jeff Beck, who was the most nominated rock act last year with five, is up for this year's Best Rock Album GRAMMY for "Rock 'N' Roll Party Honoring Les Paul." Gregg Allman's "Low Country Blues" is up against two of his Allman Brothers bandmates in the Best Blues Album category: guitarist Warren Haynes for "Man in Motion" and guitarist Derek Trucks and his wife Susan Tedeschi for the Tedeschi-Trucks Band's "Revelator." Chickenfoot's "Chickenfoot Three" is up for Best Recording Package. Bruce Springsteen's "The Promise: The Darkness On The Edge Of Town Story" is up for the Best Boxed or Special Limited Edition Package GRAMMY. Paul McCartney's deluxe edition of "Band On The Run" has been nominated for Best Historical Album. And Eric Clapton's Derek & The Dominos' deluxe version of "Layla And Other Assorted Love Songs" is up for Best Surround Sound Album. Let's just hope that Bruce Springsteen, Paul McCartney, the Foo Fighters and Joe Walsh kick it with their live performances!
Sab/Drum/Drama #24
Wednesday the word was that Sharon Osbourne had fired original Black Sabbath drummer Bill Ward from the band's much-hyped reunion and replaced him with Tommy Clufetos from Ozzy's solo band. Thursday Sharon denied those reports, and said, "I am not in any position to hire or fire anyone in Black Sabbath. I don't manage the band, I manage my husband." True that — and it sure seems like no one is managing the Sab at this point. By the way, as of Thursday Ozzy Osbourne was at home in L.A., not in London writing and recording the band's reunion album. Do you think he'll get together with Bill Ward to discuss contracts?
Bruce's Many Horns
Bruce Springsteen has lined up a full horn section for his forthcoming Wrecking Ball Tour. Jake Clemons — former E Street Band saxophonist Clarence Clemons' nephew — will be sharing his late uncle's sax duties with Ed Manion, an original member of Southside Johnny & The Asbury Jukes (and a member of Springsteen's Session Band). Also, trombonist Clark Gayton and trumpeters Curt Ramm and Barry Danielian will be joined by back-up singers Cindy Mizelle and Curtis King when the tour launches on March 9th at the Apollo Theater.

It was Jean Giraudoux who said: "Only the mediocre are always at their best."
It was Dr. Seuss who said: "Be who you are and say what you feel, because those who mind don't matter and those who matter don't mind."
It was Tom Sharp who said: "I don't consider myself bald. I'm simply taller than my hair."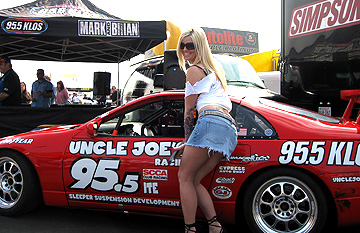 This weekend! Make time for some serious high speed rocking with yer Uncle Joe at the 52nd O'Reilly Auto Parts NHRA Winternationals Drag Races at the Auto Club Raceway in Pomona! You know that Randy Balough will be racing his Uncle Joe's Super Gas Corvette and J.B. and Randy will be doing their Saturday and Sunday Meet & Greets with the KLOS Cool Patrol. Check out these pix from last year — then come and join the fun and excitement!
February 11, 2012

Rock & Roll pioneer Gene Vincent would have been 76.
Sheryl Crow is 49.

On this day in 1963, The Beatles recorded 11 songs for their first album, "Please Please Me," in one amazing 10-hour session at Abbey Road studios. Suffering from a cold and totally thrashed from the marathon session, John Lennon nailed "Twist and Shout" in one take at the end of the session. The next day, it was decided to make that song the final one on the album.
On this day in 1964, The Beatles performed their first American concert at Washington, D.C.'s Washington Coliseum. With all of the fans screaming, the Fab Four couldn't even hear themselves play.
On this day in 1984, "That's All" by Genesis hit #6, "Pink Houses" by John Mellencamp peaked at #8 and "Middle Of The Road" by the Pretenders topped out at #19 on the charts.
On this day in 1989, "Angel Of Harlem" by U2 peaked at #14 on the charts.
February 12, 2012

Ray Manzarek of The Doors is 73.
Steve Hackett, Genesis' second lead guitarist, is 62.
Gil Moore of Triumph is 61.

On this day in 1964, Beatlemania hit New York as the Fab Four played two shows at Carnegie Hall. In Washington, D.C., President Lyndon Johnson met with British Prime Minister Alec Douglas-Home and told him, "I like your advance guard. But don't you think they need haircuts?"
On this day in 1967, Rolling Stones guitarist Keith Richards' mansion was raided by 15 policemen, who discovered "various substances of a suspicious nature." Richards, Mick Jagger and his girlfriend Marianne Faithfull were arrested, then later acquitted on drug charges.
On this day in 1968, Jimi Hendrix returned to his hometown of Seattle to receive the key to the city and an honorary high school diploma (he had dropped out at the age of 14). He also spent some time boinking Seattle maidens — a true homecoming!
On this day in 1972, Yes' "Roundabout" entered the charts, "Black Dog" by Led Zeppelin peaked at #15 and "Feeling Alright" by Joe Cocker topped out at #33.
On this day in 1977, Paul McCartney released the live version of his classic song "Maybe I'm Amazed."
On this day in 2001, former Eagles guitarist Don Felder sued founding members Don Henley and Glenn Frey, claiming he was wrongly fired. Many, many lawyers are still living off their billings from that case.
February 13, 2012

Monkee bassist Peter Tork is 70.
Producer Bill Szymczyk, who discovered Joe Walsh & the James Gang and produced several of the Eagles' greatest albums, is 69.
Former Genesis frontman, the patron saint of world music and "Sledgehammer" singer Peter Gabriel is 62.
Original Foreigner bassist Ed Gagliardi is 62.

On this day in 1966, The Rolling Stones made their first U.S. TV show appearance, performing on "The Ed Sullivan Show."
On this day in 1967, The Beatles released the "Penny Lane" single (backed with "Strawberry Fields Forever") Stateside. It came out in Britain four days later.
On this day in 1972, Led Zeppelin was forced to cancel a show in Singapore when officials wouldn't let the band and crew disembark the airplane because their hair was too long.
On this day in 1974, Bob Dylan finished his famous tour with The Band at the Forum here in Los Angeles. It was at that show that Bob recorded most of the songs for his live album, "Before The Flood."
On this day in 1982, the 300 pound headstone on the grave of Lynyrd Skynyrd singer Ronnie Van Zant was stolen from a Florida cemetery. Police found it abandoned in a dry river bed two weeks later,.

GRAMMY GRAMMY
With Bruce Springsteen & The E Street Band ripping through their new "We Take Care of Our Own," last night's 54th Annual GRAMMY Awards kicked off bigger than ever from the Staples Center. The phenomenal Adele — a real musical talent, not a producer's invention — swept all six of the top categories including Album of the Year, Record Of The Year and Song Of The Year and Pop Solo Performance. Her producer, Paul Epworth, also won for Producer of the Year. The British singer also won the Pop Vocal Album GRAMMY and returned to the stage after months of medical issues for a rousing rendition of "Rolling In The Deep." The harder rockin' Foo Fighters swept the rock categories, taking home five GRAMMY Awards including the Rock Album GRAMMY for "Wasting Light" (which they recorded in Dave's Northridge garage). Sir Paul McCartney closed the show with the "Carry That Weight"/"Golden Slumbers"/"The End" medley of The Beatles' "Abbey Road" featuring his band's guitarists (Rusty Anderson and Brian Ray) as well as Springsteen, Grohl, Joe Walsh and Macca himself on an electric guitar.
Notable Classic Rock GRAMMY Award winners included Bruce Springsteen's "The Promise: The Darkness On The Edge Of Town Story" for the Best Boxed or Special Limited Edition Package, Paul McCartney's deluxe edition of "Band On The Run" scoring the Best Historical Album GRAMMY and Eric Clapton's Derek & The Dominos' deluxe version of "Layla And Other Assorted Love Songs" named the Best Surround Sound Album. The Best Blues Album GRAMMY went to Allman Brothers Band guitarist Derek Trucks and his wife Susan Tedeschi for their Tedeschi-Trucks Band's "Revelator." The weirdest performance of the night was the Beach Boys reunion, which began with Maroon 5 and Foster the People demonstrating poor musicianship on "Surfer Girl" and "Wouldn't It Be Nice" before assisting the newly reunited band on "Good Vibrations." By the way, this version of the reunited Beach Boys includes four co-founders — Brian Wilson, Mike Love, Al Jardine and Bruce Johnston — and one 47-year-veteran — David Marks — who had never performed together live until last night.
Allmans Finally
The Allman Brothers Band received their Lifetime Achievement Award Saturday at the Recording Academy's Special Merit Awards Ceremony at a pre-GRAMMY Awards event. Gregg Allman called it a "pinnacle" in his career, and the seven other past and present band members — Jaimoe, Butch Trucks, Chuck Leavell, Warren Haynes, Oteil Burbridge, Derek Trucks, Mark Quinones — and children of two other now-deceased members — Duane's daughter, Galadriel Allman, and Berry Oakley's daughter Brittany and son Berry Junior — seemed to share his sentiment. With each member and relative getting a chance to speak, the band's portion of the ceremony took half-an-hour out of a two-hour program with 11 other honorees. Founding member Dickey Betts reportedly missed his plane and wasn't at the ceremony.

It was John Lennon who said (in his song "Beautiful Boy"): "Life is what happens while you are busy making other plans."
It was Plato who said: "Wise men talk because they have something to say; fools talk because they have to say something."
It was Martin Luther King, Jr. who said: "We may have all come on different ships, but we're in the same boat now."

This Saturday! Monster Trucks, mega horsepower, raw mud — Uncle Joe at Dodger Stadium! The Advance Auto Parts MONSTER JAM returns! Sneak a peek at the pix from last year's MONSTER JAM PARTY!
February 14, 2012

Roger Fisher, Heart's original lead guitarist, is 62.
Matchbox 20 singer Rob Thomas (also known for his work with Santana) is 40.

On this day in 1843, a small English circus staged a performance for the benefit of a Mr. Kite. Just 124 years later, the circus poster for that show inspired John Lennon to write "Being For The Benefit Of Mr. Kite" for The Beatles' classic "Sgt. Pepper's Lonely Hearts Club Band" album.
On this day in 1967, Aretha Franklin recorded her definitive version of Otis Redding's "Respect."
On this day in 1970, The Who recorded their concert at Leeds University in Northern England. The performance was immortalized as "Live At Leeds," one of the greatest live albums ever, and was released as a pseudo bootleg just three months later. The CD has now been reissued with all of the additional tracks (including the rock opera "Tommy") that were left off the original album. You must own it!
On this day in 1973, David Bowie collapsed at the end of his Valentine's Day Show at New York's Radio City Music Hall. A spokesperson said, "It was total exhaustion." Whew — we were afraid the reason for his collapse was his legendary lifestyle: staying up for days on end and partying his brains out.
On this day in 1976, E.L.O.'s "Evil Woman" peaked at #10 as The Who's "Squeeze Box" topped out at #16.
On this day in 1978, Dire Straits began recording sessions in London for the group's first album.
On this day in 1981, Steely Dan's "Hey Nineteen" peaked at #10 on the charts.
On this day in 1987, Bon Jovi's "Livin' On A Prayer" hit #1 as "We're Ready" by Boston peaked at #9 and Genesis' "Tonight, Tonight, Tonight" broke into the Top 40.
On this day in 2000, KISS announced that the group was going on a farewell tour — a tour that still hasn't ended.
On this day in 2002, Mick Tucker, drummer for the Sweet, lost his 5-year battle with Leukemia at the age of 54.
On this day in 2010, Doug Fieger, the leader of The Knack, passed away at the age of 57. An extremely knowledgeable music fan as well as a guiding voice behind the scenes to musicians both big and small, Doug lived to help others. As he said many times during his long fight with cancer, "I've had 10 great lives... I don't feel cheated in any way, shape, or form."

It's The Music
Did you notice that neither Adele nor Bruce Springsteen needed elaborate stage effects, lighting or fire to improve their performances? That's the strength and power of real music, my friends.
Where's Ringo?
It turns out that Ringo Starr couldn't present the award he was supposed to on Sunday's GRAMMY Awards because he's fighting pneumonia. That's also why he had to bail out of Paul McCartney's Hollywood Walk Of Fame ceremony on Thursday, Macca's Capitol Studios show that night and the MusiCares Person of the Year gala honoring Sir Paulie on Friday. Get well soon Ringo!
Dave's New Movie (Trailer)
You need to check out the trailer for "Sound City", the movie Foo Fighters frontman Dave Grohl has been making over the past several months. The film's about the legendary Sound City Studios in Van Nuys, where Nirvana recorded "Nevermind," Fleetwood Mac recorded their "Fleetwood Mac" album and many, many other bands made their best albums. In addition to Grohl's Nirvana bandmate Kris Novoselic, the film will include appearances by Tom Petty and his Heartbreakers Mike Campbell and Benmont Tench, Metallica drummer Lars Ulrich, Fleetwood Mac's Lindsey Buckingham and Stevie Nicks and REO Speedwagon singer Kevin Cronin, among others. You need to check it out!
No GRAMMY For You!
For those who only caught a portion of my discussion with KLOS' own Gary Moore last evening, the Beach Boys have never won a GRAMMY Award, nor have The Kinks, The Who, Led Zeppelin, Jimi Hendrix, The Doors, Janis Joplin, Queen, Lynyrd Skynyrd, Chuck Berry or Bob Marley. Just goes to show that the Rock & Roll Hall Of Fame isn't the only organization with a screwed up nominating committee.

It was Ogden Nash who said:
"To keep your marriage brimming,
With love in the loving cup,
Whenever you're wrong admit it;
Whenever you're right shut up."
It was Dave Barry who said: "On Valentine's Day, millions of men give millions of women flowers, cards and candy as a heartfelt expression of the emotion that also motivates men to observe anniversaries and birthdays: fear."
Why Is It Valentine's and Not Pagan's Day?
For 800 years, prior to the establishment of Valentine's Day in the 5th century, the Romans practiced a pagan celebration every mid-February. It featured a lottery in which young men drew the names of teenage girls, each of whom would be his sexual companion for the next year. In an effort to do away with that darn pagan festival, Pope Gelasius established Valentine's Day as a tribute to St. Valentine, who had been stoned and beheaded by Roman Emperor Claudius II, also known as Claudius the Cruel. Before he was taken to his death, St. Valentine signed a farewell love note to the blind daughter of his jailer, "From your Valentine." According to legend, Valentine was beheaded on February 14th in approximately 270 A.D. Although the party-pooping Pope banned the lottery for young hotties, Roman men continued to use the mid-February holiday to seek the affection of women. It became a tradition for men to give the ones they admired handwritten messages of affection, containing Valentine's name. I'd venture a guess that if they were successful in their quest, the young men would then (figuratively) lose their head.
February 15, 2012

Glyn Johns, who produced albums for The Who, The Rolling Stones, Van Halen and the Eagles, is 70 and just a bit cranky.
Mick Avory, long-time drummer for The Kinks is 68.
John Helliwell, master of horns with Supertramp, is 67.
Keyboardist Andrew Farris of INXS is 53.

On this day in 1964, "Meet The Beatles" became the #1 album in America for the first of 11 weeks.
On this day in 1966, The Beatles recorded the John Lennon/Paul McCartney hit "Ticket To Ride" and McCartney's "Another Girl" with the three-guitar line-up of Lennon, George Harrison and McCartney. They finished the evening by recording Harrison's "I Need You." Not bad for a Monday!
On this day in 1969, The Doors' "Touch Me" peaked at #3 as Bob Seger's "Ramblin' Gamblin' Man" topped out at #17 on the pop singles chart.
On this day in 1981, famed blues guitarist Michael Bloomfield died of a drug overdose in San Francisco at the age of 37.
On this day in 1985, Phil Collins released his classic "No Jacket Required" album.
On this day in 1998, The Rolling Stones performed the final show of their "Bridges To Babylon" North American tour at Las Vegas' Hard Rock Hotel. Always the master of understatement, Mick Jagger called the crowd, which included Brad Pitt, Johnny Depp and Sting, "the best-dressed audience I've ever seen in my life."

This weekend, over 80 stations will air OFF THE RECORD with Joe Benson featuring the music of Jimi Hendrix as well as more of Joe's extensive conversation with Janie Hendrix and engineer/producer Eddie Kramer.

GN'R For Sure
Remember to act surprised when all of the original Guns N' Roses line-up show up for their Rock & Roll Hall Of Fame induction ceremony in Cleveland on April 14th. Of course they all haven't officially committed yet, and they may not all get along (singer Axl Rose certainly dislikes some members more than others). But keyboardist Dizzy Reed has confirmed what we all knew, "I know that all the original band is going to be there." And Dizzy, who's been with GN'R since 1990, will also be inducted into the Hall. "It's a great thing for everybody to be recognized," he said with typical understatement.
Singing For The Pres
Sir Mick Jagger will be singing the blues for President Barack Obama on February 21st. The White House concert is part of a Black History Month celebration. The Rolling Stones frontman will be joined by blues guitarists B.B. King and Buddy Guy as well as Jeff Beck and Allman Brothers Band guitarists Warren Haynes and Derek Trucks. Booker T. Jones of Booker T & The MGs is musical director for the "In Performance at the White House: Red, White and Blues" which will stream live while it's being taped for a February 27th PBS broadcast.
Fishing With Roger
Would you like to join Roger Daltrey for a day of fishing on his estate on May 25th? The Who frontman is raising money for his The Children's Trust charity by opening his Lakedown Trout Fishery for the event. Your $135 entry fee will bring you breakfast, a day of fly fishing and a lunch accompanied by a charity auction. It's probably safe to assume that you won't have to clean and cook your catch.

It was Mae West who said: "I used to be Snow White, but I drifted."
It was Aristotle who said: "Education is the best provision for old age."
It was Robert Frost who said: "I'm not confused, I'm just well-mixed."