February 16 - 29, 2012
These are the scripts Joe Benson used on the air at 95.5 KLOS in Los Angeles. They all received final editing by Jan Benson, without whom the task would have been far too daunting. Remember to give credit where credit is due, and enjoy!
February 16, 2012

Former Def Leppard guitarist Pete Willis is 52.
Slayer drummer Dave Lombardo is 47.

On this day in 1964, The Beatles performed on "The Ed Sullivan Show" for a second time, live from the Deauville Hotel in Miami. It was the first time a musical act ever appeared two weeks in a row on the legendary variety show, and we hope the last time anyone ever performed at the crummy old Deauville Hotel.
On this day in 1968, John and Cynthia Lennon and George and Patti Harrison all flew to India to spend two months studying with transcendental meditation advocate Maharishi Mahesh Yogi. Ringo and Maureen Starr, Paul McCartney, Jane Asher, Mia Farrow and Donovan soon joined them. Shortly after arriving, Ringo left because he didn't like the food. Then McCartney split and Lennon became disillusioned when rumors said the Maharishi was seeking sexual favors from females at the retreat. Listen to The Beatles song "Sexy Sadie" for more sordid details.
On this day in 1974, Elton John released the single "Bennie And The Jets."
On this day in 1980, Led Zeppelin's "Fool In The Rain" peaked at #21 on the singles chart.

V.H. #2/Macca #5
Van Halen's first studio album with David Lee Roth in 28 years debuted at #2 on the Billboard 200. While it was Van Halen's 16th consecutive Top 10 album, "A Different Kind Of Truth" sold about 50,000 less than Adele's monster, multi-GRAMMY-winning "21" album. Paul McCartney's new standards collection, the decidedly non-Rock & Roll "Kisses On The Bottom," debuted at #5.
Golden Gods Awards/Exhibit
Not only will the 4th Annual Revolver Golden Gods Award Show return to Club Nokia on April 11th, the GRAMMY Museum right next door will open its new Heavy Metal exhibit! Golden Gods: The History of Heavy Metal will feature never-before-displayed instruments, stage props, handwritten lyrics, clothing and costumes, alongside original album artwork, posters and live-performance and interview footage. As you would expect from the GRAMMY Museum, the exhibit will also feature a variety of interactive displays. One last thing: although he should have received it decades ago, KISS frontman Gene Simmons will receive the night's highest honor, the Golden God Award. Let's just hope it doesn't go to his head.
Allman Tell-All
Detailing everything Gregg Allman can remember of his 40+ year career, his autobiography "My Cross To Bear" will be unleashed on May 1st. He says it will cover the Allman Brothers Band gestation, the death of his brother Duane and Brothers' bassist Berry Oakley, the women he's been married to (including Cher), his struggles with addiction and Hepatitis C, his liver transplant and more. This may be the first must-read of the year.
Beach Boys Be Coming
The Beach Boys reunion — Brian Wilson, Mike Love, Al Jardine, Bruce Johnston and David Marks — will be playing the Hollywood Bowl on June 2nd as part of their 50th anniversary tour. They'll also be playing at the New Orleans Jazz and Heritage Festival on April 27th, Bonnaroo in Tennessee on June 10th and Milwaukee's Summerfest on July 1st. There's also supposed to be a new album, a new greatest hits collection and a box set released in conjunction with the tour, so stay tuned!

It was Mark Twain who said: "The more you explain it, the more I don't understand it."
It was Abraham Lincoln who said: "Things may come to those who wait... but only the things left by those who hustle."
It was Ronald Reagan who said: "Freedom is never more than one generation away from extinction. We didn't pass it to our children in the bloodstream. It must be fought for, protected, and handed on for them to do the same."

This Saturday! Monster Trucks, mega horsepower, raw mud — Uncle Joe at Dodger Stadium! The Advance Auto Parts MONSTER JAM returns! Sneak a peek at the pix from last year's MONSTER JAM PARTY!
February 17, 2012

Green Day frontman/guitarist Billie Joe Armstrong is a spunky 40.

On this day in 1966, The Beach Boys did the first of many, many vocal recording sessions for "Good Vibrations." The next day, Brian Wilson held the first of many sessions (with The Wrecking Crew) for the single's instrumental track.
On this day in 1972, Pink Floyd kicked off a four-night stand at London's Rainbow Theater. In their set, they previewed songs from "Dark Side Of The Moon" a year before it was finished or released.
On this day in 1973, Lou Reed's "Walk On The Wild Side" entered the charts.

This weekend, over 80 stations will air OFF THE RECORD with Joe Benson featuring the music of Jimi Hendrix as well as more of Joe's extensive conversation with Janie Hendrix and engineer/producer Eddie Kramer.

It's Boston Time
Yes, Boston's been on a touring hiatus for the last four years —and it's been 10 years since their last new album. So, group leader Tom Scholz is ready to do a "reasonable" Summer tour. Though he hasn't indicated who'll be covering the late Brad Delp's vocals, he did say, "I don't really think the world is going to end this year, but on the off chance the Mayans were on to something, let me take a moment to thank all of you for helping make the Boston experience an awesome ride... I regret that we can't play as many shows as we would like, but we will do as much as we can in North America." The first announced dates roll from a June 28th Florida gig through an August 7th Sturgis show. The Southland date(s) will be included in the next announcement.
Dave'll Be Gigging Again
After taking the last year off, in mid-May the Dave Matthews Band will begin playing their way across North American Summer tour in celebration of their forthcoming album. We'll get to party with one of the best jam bands in the world at the Verizon Wireless Amphitheatre on September 8th.
All Stars To South America
A few years back gathering members of Guns N' Roses, Def Leppard, Mötley Crüe, KISS and Metallica in one place would be a recipe for distater. But as of April 19th, they'll all be part of an unprecedented South American tour called Titans of Rock. Confirmed artists include Duff McKagan and Matt Sorum of Guns N' Roses and Velvet Revolver, Joe Elliot of Def Leppard, Gilby Clarke of Guns N' Roses, Ed Roland of Collective Soul, Steve Stevens of Billy Idol fame, the iconic Gene Simmons of KISS, Glenn Hughes of Deep Purple and Black Country Communion, Jason Newsted of Metallica and Mötley Crüe's Vince Neil. Guaranteed that after the tour ends on May 2nd, Peru, Brazil, Paraguay, Argentina, Chile, Guatemala and Costa Rica will never be the same!

It was Yogi Berra who said: "I didn't really say everything I said."
It was Tom Waits who said: "The large print giveth, but the small print taketh away."
It was Baltasar Gracián who said: "Always act as if others were watching."
February 18, 2012

Yoko Ono is 79.
Singer/keyboardist Dennis DeYoung, formerly of Styx, is 65.
Robbie Bachman, drummer with Bachman Turner Overdrive, is 59.

On this day in 1965, The Beatles recorded "Tell Me What You See" and "You've Got to Hide Your Love Away" for their "Help!" album. The latter was a Dylan-influenced John Lennon composition which featured tenor and alto flute work by Johnnie Scott — the first session musician brought in by the Fab Four to augment their recordings.
On this day in 1968, guitarist Dave Gilmour officially replaced founder Syd Barrett in Pink Floyd. The highly psychedelicized Syd was soon checked into a psychiatric hospital, and later slipped into seclusion.
On this day in 1978, "Love Is Like Oxygen" by Sweet entered the charts.
On this day in 1980, bassist Bill Wyman announced he was leaving The Rolling Stones in 1983. Never one to waffle on a decision, Bill finally left the band nine years later.
February 19, 2012

Guitarist Tony Iommi of Black Sabbath is 64.
Bassist Mark Andes, who worked with Spirit and Heart, is 64.

On this day in 1972, America's "A Horse With No Name" entered the singles charts.
On this day in 1977, Fleetwood Mac released their classic "Rumours" album, which stayed at #1 on the charts for 31 weeks, and sold over 18 million copies!
On this day in 1977, Manfred Mann's Earth Band's remake of Bruce Springsteen's "Blinded By The Light" hit #1 on the singles charts. Ironically, Springsteen himself hadn't even scored a Top 20 single yet.
On this day in 1980, Bon Scott, the hard living lead singer of AC/DC, died of drunken "misadventure" in London at the age of 33.
On this day in 1995, Baywatch eye candy Pamela Anderson married Motley Crue drummer Tommy Lee on a Cancun beach. The bride wore a white bikini (for a brief period of time) and their "honeymoon" video became very, very popular.
February 20, 2012

Guitarist J. (Jerome) Geils is 66.
Mr. Walter Becker, the guitar playing half of Steely Dan, is 62.
Guitarist Randy California of Spirit would have been 61.
Guitarist Kurt Cobain of Nirvana would have been 45.

On this day 1958, George Harrison joined John Lennon and Paul McCartney onstage as a member of the pre-Beatles group The Quarry Men (sometimes listed as The Quarrymen).
On this day in 1965, The Beatles' "Eight Days A Week" broke into the American Top 40.
On this day in 1971, Santana released "Oye Como Va," and Alice Cooper released "Eighteen."
On this day in 1974, Yes played the first of two sold out concerts at New York's Madison Square Garden. The most remarkable thing about those concerts: more than 40,000 tickets were sold by word-of-mouth alone — not one cent was spent on advertising!
On this day in 1982, Stevie Nicks released "Edge Of Seventeen (Just Like A White Winged Dove)" and the J. Geils Band released the song "Freeze Frame."
On this day in 1982, Pat Benatar married her guitarist and producer, Neil Geraldo on Maui, just four days before she won her second GRAMMY Award.

It was Oscar Wilde who said: "One should always play fairly when one has the winning cards."
It was Dale Carnegie who said: "People rarely succeed unless they have fun in what they are doing."
It was Martin Luther King, Jr. who said: "Never succumb to the temptation of bitterness."
President's Day
America is the kind of place where you need a license to drive, hunt, fish, cut hair or own a dog, but anyone over 35 can run for President. President's Day originated on February 22, 1796 in commemoration of George Washington's birthday during the last full year of his presidency. The first formal observance of President Abraham Lincoln's birthday took place on February 12, 1866 — the year after his assassination — when both houses of Congress gathered for a memorial in his honor. While Lincoln's Birthday did not become a federal holiday, as Washington's had, it eventually become a legal holiday in several states. In 1968, legislation was passed that affected several federal holidays including Washington's Birthday, the observation of which was shifted to the third Monday in February each year whether or not it fell on the 22nd. This act, which took effect in 1971, was designed to simplify the yearly calendar of holidays and give federal employees some standard three-day weekends in the process. While the holiday is still officially known as Washington's Birthday, it has become popularly known as President's Day, a time for honoring Washington and Lincoln, as well as the other men who have served as President.
Presidential Factoids
While Barack Obama is our 44th president, there have actually been only 42 presidents: Grover Cleveland was elected for two nonconsecutive terms and is counted twice, as our 22nd and 24th president.
Eight presidents were actually born British Subjects: George Washington, John Adams, Thomas Jefferson, James Madison, James Monroe, John Quincy Adams, Andrew Jackson and William Henry Harrison.
Nine presidents never attended college: George Washington, Andrew Jackson, Martin Van Buren, Zachary Taylor, Millard Fillmore, Abraham Lincoln, Andrew Johnson, Grover Cleveland and Harry Truman.
Episcopalian is the most common religious affiliation among presidents, followed by Presbyterian.
The oldest president inaugurated was Ronald Reagan (age 69); the youngest was John F. Kennedy (age 43). Theodore Roosevelt, however, was the youngest man to become president — he was 42 when he succeeded William McKinley, who had been assassinated.
The tallest president was Abraham Lincoln at 6'4". At 5'4", James Madison was the shortest.
The term "First Lady" was first used in 1877 in reference to Lucy Ware Webb Hayes. Most First Ladies, including Jackie Kennedy, are said to have hated the label.
James Buchanan was the only "single" president never to get married while in office. Five presidents remarried after the death of their first wives, two of which — John Tyler and Thomas Woodrow Wilson — remarried while serving in the White House. Ronald Reagan was the only divorced president. Six presidents had no children, while John Tyler — father of 15 — had the most. A busy man, that President John Tyler!
February 21, 2012

Talking Heads keyboardist Jerry Harrison is 63.

On this day in 1966, The Beatles released the "Nowhere Man" single backed with "What Goes On" only in the U.S.
On this day in 1975, David Bowie released his "Young Americans" album.
On this day in 1976, Peter Frampton's "Show Me The Way" entered the singles chart.
On this day in 1981, AC/DC's "Back In Black" peaked at #37 on the singles chart.

Bad Sab News
In a major (but not unexpected) blow to Black Sabbath's reunion plans, guitarist Tony Iommi's ongoing treatment for lymphoma has forced the band to cancel almost all of their planned 2012 tour. And the only European show they'll do, the U.K.'s Download Festival on June 10th, will be billed as "Ozzy & Friends." Ozzy Osbourne and Sabbath bassist Geezer Butler will be playing with longtime Ozzy guitarist Zakk Wylde and a number of select special guests, including Slash. Meanwhile, the Sab's official statement makes no mention of their reunion album with producer Rick Rubin, which presumably remains on track. Let's just hope Tony's better soon!
Queen With Adam
Singer/rock god Freddie Mercury's final performance with Queen took place at Knebworth Park in 1986. But when "American Idol" star Adam Lambert did such a stellar job performing with Queen guitarist Brian May and drummer Roger Taylor at the MTV European Music Awards in Belfast last November, you just knew he was the right man for the job. Now it's official. On this July 7th, Adam will be filling in for his own personal idol when Queen headline the second day of the Sonisphere Festival at Knebworth Park. Can a world tour be far behind?
The Big Book Of KISS
August 14th is the release date for KISS' long awaited "Nothin' To Lose: The Making Of KISS (1972-1975)." Written by Gene Simmons and Paul Stanley with author Ken Sharp, the 448-page book will feature more than 200 interviews, most notably with the other two founding members, Ace Frehley and Peter Criss. Among many others speaking on the record are Bob Seger, Ted Nugent, Alice Cooper, members of Aerosmith, Black Sabbath, Rush, Styx, Blue Oyster Cult, Journey and REO Speedwagon.

It was Andy Rooney who said: "The 50-50-90 rule: anytime you have a 50-50 chance of getting something right, there's a 90% probability you'll get it wrong."
It was Euripidies who said: "Waste not fresh tears over old griefs."
It was Bill Cosby who said: "Parents aren't interested in justice, they are interested in quiet."
Voice Mail Messages You Can Use
Just another of yer Uncle Joe's timely services!
1. Hi there. Now, you say something.
2. Hello. I'm David's voice mail. What are you?
3. Hi! John's voice mail is broken. This is his refrigerator. Please speak very slowly, and I'll stick your message to myself with one of these magnets.
4. This is not an answering machine. This is a telepathic thought-recording device. After the tone, think about your name, your reason for calling and a number where I can reach you, and I'll think about returning your call.
5. Hi. I am probably home. I'm avoiding someone I don't like. Leave me a message, and if I don't call back, it's you.
6. Hello. I'm sorry I can't answer the phone right now. Leave a message, and then wait by your phone until I call you back.
February 22, 2012

KLOS' DJ Melissa is finally 29.

On this day in 1965, The Beatles flew to the Bahamas to begin filming their second movie, "Help!"
On this day in 1967, Paul McCartney, John Lennon, Ringo Starr and road manager Mal Evans recorded the piano chord (an E major) used at the end of The Beatles "A Day In The Life."
On this day in 1968, Genesis released their debut single, "The Silent Sun." It really wasn't very good, but they eventually scored a commercial breakthrough — 10 years later.
On this day in 1969, The Beatles began sessions for their "Abbey Road" album by recording a take of John Lennon's "I Want You (She's So Heavy)."
On this day in 1969, T. Rex kicked off a British tour with a young David Bowie as the opening act. For this auspicious debut, David bypassed a musical performance to do a mime about a Tibetan monk. No, really — I didn't make that up.
On this day in 1975, Grand Funk Railroad's "Some Kind Of Wonderful" peaked at #3 on the pop singles chart.
On this day in 1978, The Police appeared as blondes in an advertisement for Wrigley's chewing gum. They never made a group decision to keep the look, but it sure worked out for them.
On this day in 1979, "Rolling Stone" magazine reported that Journey had entered into a deal with Budweiser, becoming one of the first corporate sponsorship agreements between a company and a rock act. Thus did their staging become bigger, video screens were added and Mick Jagger took serious notice of a new way to finance tours.

This weekend, over 80 stations will air OFF THE RECORD with Joe Benson featuring the music of Supertramp and Joe's brand new conversation with singer/guitarist Roger Hodgson. Check out the promo... and Stream on!

All Hail Bob!
It's about time! Bob Seger, who's sold more than 50 million records, tops the just-announced list of inductees to the Songwriters Hall of Fame. Gordon Lightfoot and Jim Steinman (of Meat Loaf's "Bat Out of Hell" fame) also made the cut and will be honored on June 14th at the Marriott Marquis in New York.
Chickenfoot Hitting The Road
Chickenfoot have finally booked their extended tour in support of their second album, "Chickenfoot Three." A Different Devil Tour will start on May 4th in Lake Tahoe and wrap up at our Greek Theatre on June 10th. Sammy Hagar, Michael Anthony, Joe Satriani and Kenny Aronoff (filling in for Chili Pepper Chad Smith) are once again partnering with Feeding America, the country's leading hunger-relief charity. The band will make donations to a local food bank in each market and are encouraging fans to do the same. Right so!
Macca/Royal Albert Hall
The 2012 Teenage Cancer Trust benefit concerts, running from March 28th through April 3rd at London's Royal Albert Hall, will see Paul McCartney headline the second night of the giant fundraiser. The Who's Roger Daltrey, a longtime patron of the charity and one of the prime organizers of the concerts, will open this year's event.

It was Ralph Waldo Emerson who said: "Be and not seem."
It was George Eliot (Mary Ann Evans) who said: "Blessed is the person who, having nothing to say, abstains from giving wordy evidence of the fact."
It was Marlene Dietrich who said: "It's the friends you can call up at 4am that matter."
February 23, 2012

Blues guitarist Johnny Winter is 68.
Guitarist Rusty Young of Poco is 66.
Sweet bassist/singer Steven Priest is 64.
Guitarist Brad Whitford of Aerosmith is 60.

On this day in 1972, Pink Floyd began recording the soundtrack for "Obscured By Clouds" at the Chateau d'Herouville (the Honky Chateau) in France.
On this day in 1974, Billy Joel's "Piano Man" entered the Billboard Hot 100 singles chart.
On this day in 1979, Dire Straits began their first American tour in Boston.
On this day in 1980, Queen's "Crazy Little Thing Called Love" hit #1. It's true, Freddie Mercury wrote it while in a bathtub.
On this day in 1980, the Eagles' "I Can't Tell You Why" broke into the Top 40.
On this day in 2003, bassist Howie Epstein of Tom Petty's Heartbreakers died of an overdose in Santa Fe, New Mexico at the age of 47.
On this day in 2004, Bob Mayo, Peter Frampton's longtime keyboard player, died of a heart attack at age 52 while on tour with Frampton in Switzerland.

Red, White & Blues
Tuesday night's Red, White & Blues in the East Room of the White House was the latest edition of the In Performance series — and it rocked! Among those performing for the President, First Lady and invited guests were Mick Jagger (who danced up a storm), Jeff Beck, B.B. King, Buddy Guy, Derek Trucks and his wife Susan Tedeschi, Warren Haynes, Keb Mo, Booker T. Jones and other celebrated blues performers. Definitely a don't miss when it airs Monday night on PBS!
REO/Styx/Nuge
They're calling it the Midwest Rock n' Roll Express: REO Speedwagon, Styx and Ted Nugent. Starting May 1st in Texas, Nuge will open each show with Styx and REO flip-flopping as the headliner. You'll have a chance to check them out on May 6th at the Greek Theatre.
Aerosmith In Town
This has to be good news! The rest of Aerosmith have joined Steven Tyler and Joe Perry here in town to finish recording their new album and shoot the cover art. This will be Aerosmith's first album since 2004's collection of blues covers, "Honkin' On Bobo," and their first of original material since 2001's "Just Push Play."
Book Those Allmans
No worries — the Allman Brothers Band will be one of the headliners at the All Good Music Festival in Thornville, Ohio in mid-July. The Grateful Dead will be fully represented in the line-up by Phil Lesh & Friends, The Mickey Hart Band, Bob Weir and Bruce Hornsby. Jam on!
.

It was G. K. Chesterton who said: "Impartiality is a pompous name for indifference, which is an elegant name for ignorance."
It was Hal Lee Luyah (was that really his name?) who said: "There's a deception to every rule."
It was Benjamin Franklin who said: "An investment in knowledge pays the best interest."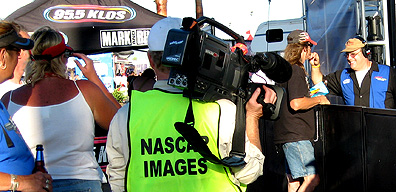 March 23rd - 25th: J.B. will be working non-stop at the NASCAR Sprint Cup Auto Club 400, just like he's done at every race since the Auto Club Speedway opened in 1997. Join him for Q&A sessions with NASCAR stars Jimmie Johnson, Jeff Gordon, Dale Earnhardt Jr. and Danica Patrick. He'll also be hosting the Fan Zone's big stage and broadcasting his KLOS Friday afternoon program from the NASCAR garages, as well as calling both the NASCAR Nationwide and NASCAR Sprint Cup races from the announcers' booth. Good times! Scope out a few prime photos from last year.
February 24, 2012

For many years George Harrison believed he was born on February 25th, but in 1992, he announced, "I only learned recently after all these years that the date and time of my own birth have always been off by one calendar day and about a half hour on the clock." So in fact, though we still celebrate it on the 25th, his birthday was really today. He would have been 69.
Keyboardist Nicky Hopkins, who most notably played with The Rolling Stones and The Who, would have been 68.
The mighty George Thorogood is 62.

On this day in 1958, The Champs' "Tequila" broke into the Top 40 within a month and stayed on top of the charts for five weeks, thereby assuring the fall of Western civilization.
On this day in 1965, The Beach Boys (with help from The Wrecking Crew studio musicians) recorded the song "Help Me Rhonda."
On this day in 1969, the Jimi Hendrix Experience performed its last concert, at London's Royal Albert Hall.
On this day in 1975, Led Zeppelin released the album "Physical Graffiti," the group's long awaited follow-up to 1973's "Houses Of The Holy." The double-album hit #1 on the "Billboard" charts two weeks later, a record at the time.
On this day in 1979, "Roxanne" by The Police entered the singles charts.
On this day in 1998, Sir Elton John received his knighthood (for services to music and charitable services) from the real Queen of England in her Buckingham Palace.

On Stage
Roger Hodgson of Supertramp fame is performing at Pechanga this Friday and Saturday evening. Heart is headlining the Cal State Fullerton Front & Center Benefit at the Honda Center in Anaheim Saturday evening. Taking a break from his TV work, Frank Caliendo is making a rare club appearance at the Irvine Improv Friday, Saturday and Sunday, while longtime KLOS Five O'Clock Funnies fave Kathleen Madigan will be knocking them down at the Grove in Anaheim Friday eve.
Hubert's Party
Friday night's all-star tribute to the late blues guitarist Hubert Sumlin should be rocking! Headlined and organized by Eric Clapton, the Apollo Theatre show will include performances by Keith Richards, Derek Trucks and his wife Susan Tedeschi, James Cotton, Kenny Wayne Shepherd, Buddy Guy, Robert Randolph and Jimmie Vaughan, among many others. Backing them will be an all-star house band featuring Steve Jordan, Danny Korchmar, Ivan Neville, Willie Weeks, Kim Wilson and others. Everyone involved is hoping that a DVD of the event (like Clapton's "Crossroads Festival" series) will be released by this Summer.
Saturday For Ali
Aerosmith guitarist Joe Perry, former Guns N' Roses axeman Slash and former Van Halen singer Sammy Hagar were all part of the Las Vegas benefit event celebrating Muhammad Ali's 70th birthday. Highlights from that extravaganza will be featured in the "Ali 70th from Las Vegas" airing this Saturday night on ABC. The Keep Memory Alive organization's 16th annual Power of Love Gala at the MGM Grand Garden Arena paid tribute to the boxing legend and recognized his charitable support of the fight against neurological diseases. Procedes will go to the Cleveland Clinic Lou Ruvo Center for Brain Health and the Muhammad Ali Center.
Santana's H.O.B. Gig
After he wrapped up his residency at the Strip At The Joint in the Hard Rock Hotel & Casino in Las Vegas last year, Carlos Santana decided that he wanted to stay off the road for a while. That decision directly led the Rock & Roll Hall Of Fame guitarist and bandleader to sign up for a two-year residency at the House of Blues just down the road from his Las Vegas home. Beginning on May 2nd, he'll be playing 80 nights a year at the 1,500 seat club with a re-imagined show he's calling "Greatest Hits Live: Santana — Yesterday, Today & Tomorrow."
Stevie On TV
Bet you never thought you'd see Stevie Nicks in a sitcom. Word is that the Fleetwood Mac front woman will play herself in an upcoming episode of the NBC comedy "Up All Night," which stars Christina Applegate and Maya Rudolph. In Stevie's episode, Christina and Maya's characters have to convince her to appear as a guest on their talk show. Knowing those three, laughs and hilarity will definitely result.

It was Lewis Carroll who said: "If you don't know where you are going, any road will get you there."
It was Danny Kaye who said: "Life is a great big canvas, and you should throw all the paint on it you can."
It was Alfred Hitchcock who said: "The length of a film should be directly related to the endurance of the human bladder."
February 25, 2012

For many years George Harrison believed he was born on this day. But in 1992, he announced "I only learned recently after all these years that the date and time of my own birth have always been off by one calendar day and about a half hour on the clock." So in fact, his birthday was really yesterday, February 24th. He would have been 69.

On this day in 1957, Buddy Holly & The Crickets did their first session with New Mexico record producer Norman Petty. They recorded "That'll Be The Day," which soon became their first #1 and biggest hit.
On this day in 1993, Marshall Tucker Band guitarist Toy Caldwell died of heart failure at age 45 in his Spartanburg, South Carolina home.
February 26, 2012

Johnny Cash would have been 80.
Rock & Roll Icon Mitch Ryder is 67.
Keyboardist Jonathan Cain of Journey is 62.

On this day in 1966, "19th Nervous Breakdown" by The Rolling Stones entered the charts.
On this day in 1977, the Eagles classic "Hotel California" entered the singles charts.
On this day in 1987, the first four Beatles albums were released on Compact Disc.
On this day in 2008, drummer Buddy Miles died of congestive heart failure at his home in Austin, Texas at the age of 60. During his long career Miles had worked with many musicians, including Jimi Hendrix, Wilson Pickett, Carlos Santana, David Bowie and Stevie Wonder.
February 27, 2012

Guitarist Neal Schon of Journey and Santana fame is 58.
Singer Johnny Van Zandt of Lynyrd Skynyrd is 53.

On this day in 1967, Pink Floyd recorded their debut single, "Arnold Layne." Based on the true story of a man arrested for stealing women's underwear off of clothes lines (three years before The Kinks recorded "Lola"), the single eventually sold tens of copies.
On this day in 1977, Rolling Stone Keith Richards got busted by the Royal Canadian Mounted Police, who found 22 grams of heroin, five grams of cocaine and drug paraphernalia in his Toronto hotel suite. Talk about your wicked room service!
On this day in 2003, pioneering children's TV host Fred "Mister Rogers" died of cancer at age 74.

Hubert's Party
Friday night's all-star tribute to the late blues guitarist Hubert Sumlin was historic. Headlined and organized by Eric Clapton, the Apollo Theatre show was originally conceived as Hubert's 80th birthday celebration while he was still alive. Friday night's performances included Rolling Stone Keith Richards' first on-stage appearance in five years, ZZ Top's Billy Gibbons, Allman Brothers Warren Haynes and Derek Trucks along with Derek's wife Susan Tedeschi, Kenny Wayne Shepherd, Buddy Guy and Jimmie Vaughan, among many others. Sumlin's surviving bandmates from his Howlin' Wolf years — harmonica player James Cotton, guitarist Jody Williams and saxophonist Eddie Shaw — also contributed mightily to the jams. We can only hope that a DVD of the event (like Clapton's "Crossroads Festival" series) will be released by this Summer.
No Mac/More Stevie & Roddy
So much for Fleetwood Mac doing anything this year. Stevie Nicks is teaming up again with Rod Stewart to reprise their joint Heart & Soul tour. So far, only four late-July dates have been announced back east, but there'll be more. Meanwhile, if you need more Roddy, Mr. Stewart begins an eight-date residency at the Colosseum at Caesars Palace in Las Vegas on March 24th.
Robert's Space Shifters
Never afraid of trying something new, former Led Zeppelin frontman Robert Plant has joined a new musical "collective" called The Sensational Space Shifters. This latest project features members of Robert's old (2001 to 2007) backing band, The Strange Sensation, as well as multi-instrumentalist Justin Adams and Gambian musician Juldeh Camara. This eclectic combo will make their live debut headlining the last day of the 2012 WOMAD Festival. The 30th anniversary of that world music extravaganza (originally co-founded by Peter Gabriel) will run from July 27th through the 29th in Malmesbury, England.

It was Ronald Reagan who said: "Trust, but verify."
It was Albert Einstein who said: "The only thing that interferes with my learning is my education."
It was Mark Twain who said: "It ain't what you don't know that gets you into trouble. It's what you know for sure that just ain't so."
February 28, 2012

Driving legend Mario Andretti is 72.
Brian Jones, founding member of The Rolling Stones, would have been 70.

On this day in 1970, under the threat of a serious lawsuit from the family of Ferdinand Von Zeppelin, the brand new Led Zeppelin band performed in Denmark under the name The Nobs (English slang for male genitalia).
On this day in 1970, "No Time" by the Guess Who peaked at #5 on the charts as Simon & Garfunkel's "Bridge Over Troubled Water" hit #1 for the first of six weeks.
On this day in 1970, "Instant Karma (We All Shine On)" by John Lennon and "Spirit In The Sky" by Norman Greenbaum both entered the charts.
On this day in 1976, the Eagles released their "Greatest Hits" collection, which eventually became the best-selling record in America ever.
On this day in 1977, bluesman Booker T. Washington "Bukka" White died of cancer in Memphis at age 75.
On this day in 1981, Billy Idol left Generation X to pursue a solo career just as Rockpile drummer Terry Williams joined Dire Straits.
On this day in 1983, U2 released their "War" album.

Nada Springfield
Too bad that the word on the Buffalo Springfield reunion is no surprise to Neil Young fans. Richie Furay, one of three surviving co-founders of the Hall Of Fame band, has announced their reunion is once again on an indefinite hiatus. "You know, Neil is just fickle, and even though it boils down to all three of us making a decision... without the three of us (ie. Richie, Neil and Stephen Stills), really there can't be anything that would even resemble a Buffalo Springfield." The Springfield played their first shows since splitting up in 1968 at Neil's 2010 Bridge School Benefit. Last Summer they played a six-date theater tour of California before performing at the Bonnaroo festival as word spread that a 30-date tour was being booked. Unfortunately, the band is no longer on the "top of Neil's list of priorities."
Mas Sting's Rain Forest
After taking last year off, Sting has rebooted his Rainforest Fund benefit concert series. The April 3rd event at Carnegie Hall will include performances by the former Police frontman as well as Elton John, James Taylor, "American Idol" alumna Katharine McPhee, opera singer Bryn Terfel, country artists Vince Gill and Rosanne Cash and, surprisingly, Oscar winner Meryl Streep. The Rainforest Fund was founded in 1989 by Sting and his wife, Trudie Styler, and it's helped to preserve tens of thousands of square miles of rainforest around the globe.
Fresh/Old ELP
It's about time! Emerson, Lake & Palmer's catalog has finally been remastered and is being reissued starting with the just released "Best Of Emerson Lake & Palmer: Come & See the Show." Later this year will see releases of re-mastered and expanded editions of ELP's first six albums: "Emerson, Lake & Palmer," "Tarkus," "Pictures At An Art Exhibition," "Trilogy," "Brain Salad Surgery" and "Welcome Back My Friends to the Show That Never Ends — Ladies & Gentlemen." Considering they were all state of the art recordings in the Seventies, these should REALLY sound good!

It was the immortal Frank Zappa who said: "There is more stupidity than hydrogen in the universe, and it has a longer shelf life."
It was Shirley MacLaine who said: "It's useless to hold a person to anything he says while he's in love, drunk or running for office."
It was Harry Truman who said: "It's a recession when your neighbor loses his job; it's a depression when you lose yours."
February 29, 2012

On this day in 1968, The Beatles became the first rock act to win the Album Of The Year GRAMMY Award. They earned the honor for their "Sgt. Pepper's Lonely Hearts Club Band," which also won three other less important GRAMMYS. Other winners that night included Bobbie Gentry, who took home three trophies for the song "Ode To Billie Joe," and Glen Campbell, who was a two-time winner for the song "By The Time I Get to Phoenix."

This weekend, over 80 stations will air OFF THE RECORD with Joe Benson featuring the music of Pink Floyd's "The Wall" as well as Joe's brand new conversation with drummer Nick Mason.

One More Queen/Lambert
Remember last week's announcement by Queen guitarist Brian May and drummer Roger Taylor that they were doing a "one-off" performance with singer Adam Lambert at the U.K. Sonisphere Festival at Knebworth Park on July 7th? Well guess what — they've just announced a June 30th show at Moscow's Olympic Arena. But that's all they'll be doing, seriously... that's all they'll be doing. Until the next announcement.
Slash & Betty
Slash has filmed a commercial for the Los Angeles Zoo's new Lair attraction with longtime L.A. Zoo supporter, actress Betty White. The Lair is scheduled to open next Tuesday featuring "60 species of weird, rare and endangered amphibians, invertebrates and reptiles." Slash was well-known for his large collection of snakes during his days with Guns N' Roses, long before he joined White in raising funds and awareness for the L.A. Zoo. Slash was honored last year by the Zoo for his contributions to the wildlife center and is also a trustee on the board, along with White, of the Greater Los Angeles Zoo Association.
Mick Jones' Bypass
Foreigner's co-founder/lead guitarist Mick Jones successfully underwent bypass heart surgery last Tuesday at Miami Beach's Mount Sinai Heart Institute. The 68-year-old, who had been sitting out of recent Foreigner shows, "is expected to be discharged from the hospital in a day or two, and resume a touring schedule with his band very soon." Foreigner (without Mick) will next perform on Thursday in Tucson. Get well soon Mick!

It was Woody Allen who said: "Comedy is tragedy plus time."
It was Donald Trump who said: "Listen to your gut, no matter how good something sounds on paper."
It was Martin Luther King, Jr. who said: "Every man must decide whether he will walk in the light of creative altruism or in the darkness of destructive selfishness."