April 21, 2017

Iggy Pop, the rock icon emeritus who was born James Jewel Osterburg, is 70.

On this day in 1973, Alice Cooper's million selling "Billion Dollar Babies" album hit #1 just as Deep Purple's "Made In Japan" began its climb to... More »»
The Uncle Joe's Show Menu
Friday 4/21/17
10 At 10: 1971
Uncle Joe's Lunch Box - Jason Bonham's Led Zeppelin Experience tix! @12:15pm
The Story - Joe Elliott/Def Leppard @1:20pm

Guardians Of The Playlist
The first Guardians Of The Galaxy movie and its Seventies-based soundtrack were huge successes, so you can count on the highly anticipated sequel (out next Friday) to be a box office bonanza. Indeed, the intergalactic super-hero flick's soundtrack — "Guardians Of The Galaxy Vol. 2: Awesome Mix Vol. 2" — will feature wild Seventies pop and rock hits like... More »»


It was Will Rogers who said: "Don't squat with your spurs on."
It was Bill Murray who said: "I'm having some vision trouble today. I can't see myself doing anything."
It was Lyndon B. Johnson who said: "I have learned that only two things are necessary to keep one's wife happy. First, let her think she's having her own way. And second, let her have it."
It was Dr. Seuss/Theodor Seuss Geisel who said: "You can get help from teachers, but you are going to have to learn a lot by yourself, sitting alone in a room"... More »»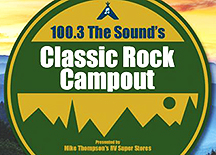 This Weekend: A Classic Rock Camp Out Party with music, entertainment, food and folks hanging with Uncle Joe and The Sound's airstaff! Join us partying down at the beautifuly remote Oak Canyon Park at 5305 Santiago Canyon Road in Silverado!

This Sunday night at 8pm on 100.3 The Sound of Los Angeles, OFF THE RECORD with Joe Benson will feature the music of Def Leppard and more of Joe's conversations with singer Joe Elliott, guitarist Phil Collen and bassist Rick Savage. Check out this preview!