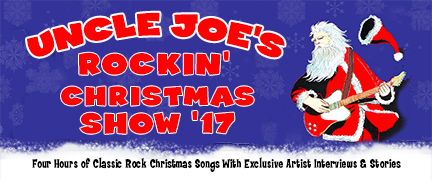 December 14, 2017

Cliff Williams, AC/DC's longtime bassist, is 68... More »»

On this day in 1999, Paul McCartney, along with guitarist David Gilmour of Pink Floyd and drummer Ian Paice of Deep Purple, performed at the... More »»
100.3 The Sound, R.I.P.
As forewarned for several months, 100.3 The Sound has finally been sold. And, as I wait for my next adventure to begin, I must thank you for your overwhelming response and encouragement! Until the good news breaks through, I'll keep working my way through the thousands of text, e-mail and Facebook messages you've sent... Rock On!
Rock & Roll Hall Of Fame
The Rock & Roll Hall Of Fame Class of 2018 is set! The 33rd annual induction ceremony on April 14th will honor Bon Jovi, The Cars, Dire Straits, the long overdue Moody Blues and Nina Simone in the Performer Category. In addition, Rock & Roll pioneer Sister Rosetta Tharpe will... More »»


It was Coach John Wooden who said: "Winning takes talent, to repeat takes character."
It was Mae West who said: "She's the kind of girl who climbed the ladder of success wrong by wrong."
It was Linus Pauling who said: "The best way to have a good idea is to have lots of ideas."
It was Clare Boothe Luce who said: "Money can't buy happiness, but it can make you awfully comfortable while you're being miserable"... More »»

This weekend OFF THE RECORD with Joe Benson will feature the music of Cheap Trick — including their new album "Christmas Christmas" — and Joe's brand new conversation with guitarist Rick Nielsen. Check out this preview!