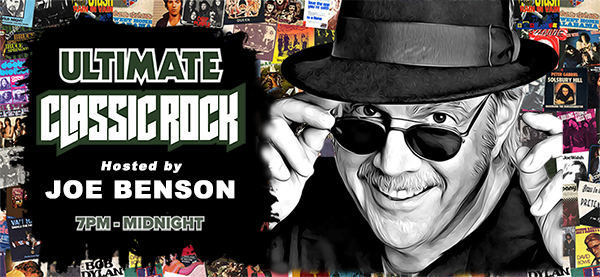 January 15, 2019

Longtime Ozzy Osbourne guitarist Zakk Wylde is 52.
Head Foo Fighter/former Nirvana drummer Dave Grohl is a rockin' 50.

On this day in 1984, Van Halen's "Jump" entered the singles charts. The first release from their "1984" album, it not only became the band's first #1 hit, it spent five weeks on top of the charts!

This weekend , OFF THE RECORD with Joe Benson features the music of Bob Seger and more of Joe's extensive conversation with Bob.
January 15, 2019
br />

Ronnie Van Zant, the singer and heart of Lynyrd Skynyrd, would have been 72.

On this day in 1966, The Who's classic "My Generation" briefly entered the singles charts, topping out at #74.
On this day in 1967, The Rolling Stones performed on the "Ed Sullivan Show" only after being forced to change the lyrics of "Let's Spend the Night Together" to "Let's Spend Some Time Together." Oh, those were scandalous times indeed!
On this day in 1977, as the Eagles "Hotel California" album began its eight-week run at #1 (eventually selling over 16 million copies), Queen's "A Day At The Races" entered the charts on its way to #5.
On this day in 1982, driven by the hit single "Shadows Of The Night" (which would soon win a Best Female Rock Vocal GRAMMY Award), Pat Benatar's million-selling "Get Nervous" album hit #4.
On this day in 1983, powered by two very strong singles — "Even Now" and "Shame On The Moon" — Bob Seger's "The Distance" album began its run to #5.
On this day in 1983, Led Zeppelin's final album, a compilation of outtakes called "Coda," hit #6.
On this day in 1992, Dee Murray, Elton John's longtime bassist, died following a stroke in Nashville at the age of 55.
On this day in 1994, singer/songwriter Harry Nilsson died at the age of 52 from heart failure in his Agoura Hills, California home.

Which one of these handpicked selections is your fave Unc's Quote Of The Day?
It was Martin Luther King, Jr. who said: "A right delayed is a right denied."
It was Martin Luther King, Jr. who said: "A man can't ride your back unless it's bent."
It was Martin Luther King, Jr. who said: "Nothing in all the world is more dangerous than sincere ignorance and conscientious stupidity."
It was Martin Luther King, Jr. who said: "Peace is not merely a distant goal that we seek, but a means by which we arrive at that goal."
Martin Luther King Jr. Day
Commemorating the life of a tremendously important American, we celebrate Martin Luther King Jr. Day on the third Monday of every January. One of America's greatest orators and civil rights leaders, at age 35 in 1964 he became the youngest man to receive the Nobel Peace Prize. On April 4th, 1968, he was assassinated. While legislation for a commemorative holiday was introduced four days after his assassination, it took 15 years and petitions signed by six million people endorsing the holiday submitted to Congress before the holiday legislation passed in 1983. King's actual birthday is January 15th, but the holiday was created a week later to overcome opposition claiming the 15th was too close to Christmas and New Year's Day.
All city, county, state and federal offices are closed today. That includes public schools, most banking institutions and all post offices. There will be no mail delivery, but most public transportation and trash pickup will continue as normal.