October 17, 2016







This Friday, 10am - 2pm: Uncle Joe will be broadcasting his 100.3 The Sound show live from the Hollywood Park Casino Grand Opening in Inglewood! Stop by the beautiful, newly renovated Hollywood Park Casino at 3883 W. Century Boulevard and you can win prizes, concert tickets and maybe a pair of front row seats for Brian Wilson Presents Pet Sounds: The Final Performances at the Hollywood Pantages on May 27th (must be 21 and present to win at the 2pm drawing). Good times!!

This Sunday night at 8pm on 100.3 The Sound of Los Angeles, OFF THE RECORD with Joe Benson will feature the music of Creedence Clearwater Revival as well as more of Joe's new conversation with John Fogerty. Check out this preview!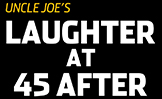 This week on 100.3 The Sound: Dana Carvey and Jo Koy will be rocking the Check out the Podcasts too!»»

For the latest Music News, This Day In Rock & Roll History and the Quotes Of The Day, you gotta check out Uncle Joe's Daily Update!
The Official Disclaimer
Doc, the reigning editorial disciplinarian of the Uncle Joe's Newsletter, continues the tradition of denying responsibility for any grammatical or factual errors. Doc's many dealings with litigious idiots over the years has also reaffirmed that the Uncle Joe's Newsletter in no way reflects the official viewpoint of any staff or management of any corporate entity. As ever, correspondence is welcome, but no whining will be allowed.