May 23, 2016







Saturday May 28th, 8pm: Uncle Joe will be emceeing the "Official" Keith Emerson Tribute Concert at the El Rey Theatre in Los Angeles. Many of the artists who worked with Keith and were his close friends will perform some of his most famous works as a retrospective of his entire career, from The Nice, to ELP, to The Keith Emerson Band and Three Fates Project. This great night of music and homage to one of the most influential musicians and composers of the twentieth century will feature performances by:
The Keith Emerson Band
Brian Auger (Oblivion Express)
Jeff "Skunk" Baxter (Steely Dan / Doobie Bros.)
Gregg Bissonette (Ringo Starr's All-Star Band)
Marc Bonilla (Keith Emerson Band / Toy Matinee)
Vinnie Colaiuta (Jeff Beck, Frank Zappa)
Travis Davis (The Keith Emerson Band)
Eddie Jobson (U.K. / Roxy Music)
Steve Lukather (Toto)
Steve Porcaro (Toto)
Ed Roth (Annie Lennox, CTA)
Philippe Saisse (Al Dimeola)
Joe Travers (Zappa's Universe)
Mike Wallace (Boys Club / Dragonchoir)

This Sunday night at 8pm on 100.3 The Sound of Los Angeles, OFF THE RECORD with Joe Benson will feature the music of Electric Light Orchestra and more of Joe's extensive conversation with Jeff Lynne. Check out this preview!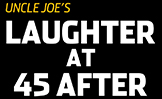 This week on The Sound LA.com: Gabriel Iglesias, Jackie Kashian, Steve Byrne and Brian Regan will be rocking the Laughter At 45 After! Check out the Podcasts too!»»

For the latest Music News, This Day In Rock & Roll History and the Quotes Of The Day, you gotta check out Uncle Joe's Daily Update!
The Official Disclaimer
Doc, the reigning editorial disciplinarian of the Uncle Joe's Newsletter, continues the tradition of denying responsibility for any grammatical or factual errors. Doc's many dealings with litigious idiots over the years has also reaffirmed that the Uncle Joe's Newsletter in no way reflects the official viewpoint of any staff or management of any corporate entity. As ever, correspondence is welcome, but no whining will be allowed.