Uncle Joe's Racing @ the 40th Annual Illgen 4-Hour Endurance race.

November 19-21, 1999: The Uncle Joe's Racing Team trecked to Thunderhill Raceway near Willows, CA for the 40th Annual Illgen 4-Hour Endurance Race. "Endurance" was the key to the weekend for Joe and co-drivers Sport Compact Car Magazine editor Larry Saavedra and Bob Spencer (a past winner in the Uncle Joe's 300ZX Endurance Racer). Catostrophic transmission failure (ever try to find one of those 100 miles north of Sacramento on a Saturday night?) during practice and a fuel pick-up problem 3.5 hours into the race greatly limited Spencer's seat time. Larry and Joe ran a perfect Endurance race before bad luck sidelined Bob just as he began to break lap records. The May 2000 issue of Sport Compact Car Magazine featured a 12-page story (with photos).

The back end of the 300ZX flies off the ground
at speed over the first of two steep hills.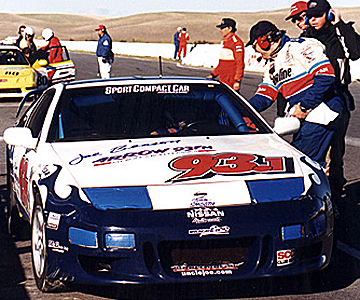 The first driver change in the 4-hour Endurance Race -- looking good!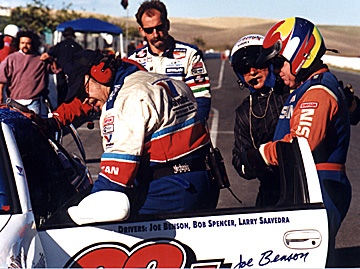 The 2nd driver change - Bob 'Fireball' Spencer prepares to drive
as Larry warns about oil-downs.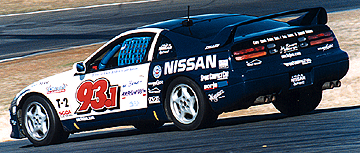 At speed heading down hill into
an off-camber right-hander at Thunderhill Raceway.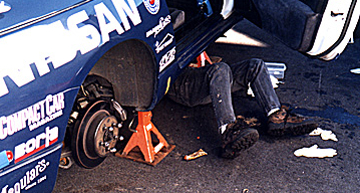 Marc Jones demonstrates what most of Saturday was like.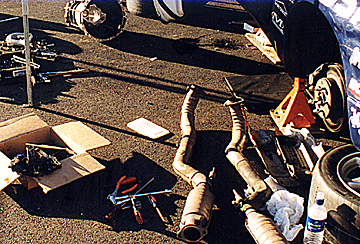 Parts is parts.

One broken shifter fork: one dead transmission.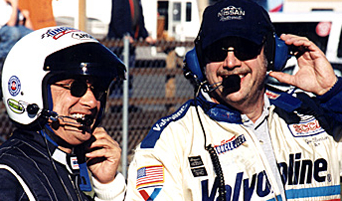 Larry and Joe contemplate Bob's insight on gas conservation.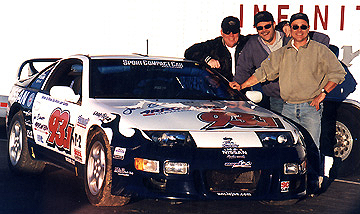 Los Tres Survivors!




[an error occurred while processing this directive]