Uncle Joe Benson at the Auto Club Speedway NASCAR race, October 2009.
October 9 - 10, 2009: As he has for every major race since the track opened in 1997, J.B. spent the weekend announcing at the Auto Club Speedway — this time as part of the NASCAR Sprint Cup Race For The Chase to the Championship. Starting with a Friday afternoon broadcast of his KLOS program, he returned as the Master of Ceremonies on The Fan Zone's big stage Saturday and Sunday before switching to call the races from the announcers' booth. Special sessions with NASCAR driver Ryan Newman and four-time NASCAR Champion Jimmie Johnson as well as a Foreigner concert kept everyone rocking!
(Photos by Jim Sleeper, Jan Benson & Randy Fann.)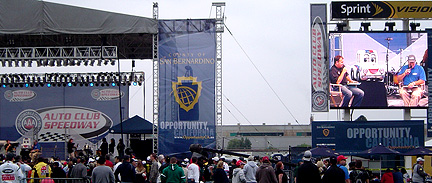 On stage and on the big screen talking with Ryan Newman at the NASCAR Sprint Cup Series Pepsi 500!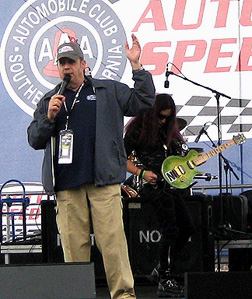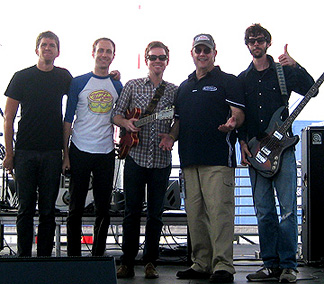 The 88 put on an outstanding show.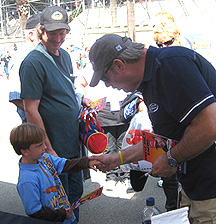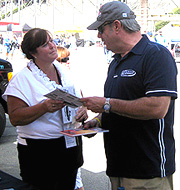 Nothing like a Meet & Greet with the KLOS Cool Patrol!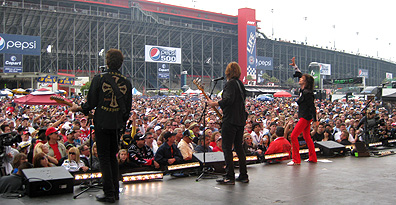 Foreigner rocked the crowd Sunday morning!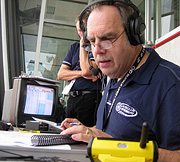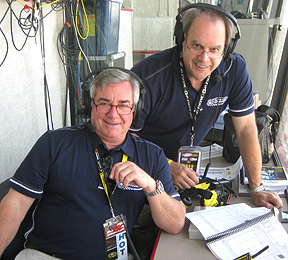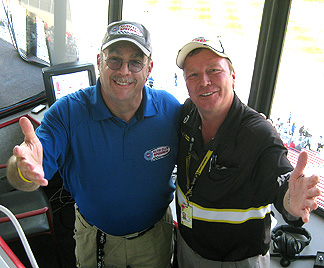 Working hard in the announcers booth, J.B. and old buddy Jim Mueller were joined by MRN announcer Paul Bartholomew throughout the weekend.